This post may contain affiliate links. If you buy thru these links, we may earn a commission at no additional cost to you.
---
One of Brentwood's "best kept secret" parks is Tower Park.
It is across Concord Road from the River Park trailhead, and it's not nearly as busy as River Park and Crockett Park.
I spent an afternoon at Tower Park recently with my daughter and our bicycles.
She is just learning the rules of riding on a greenway with so many other people so I was very happy to have a less crowded park to try out for that.
We parked right next to the Brentwood Indoor Sports Complex on Heritage Way.
You have the choice of going through a tunnel underneath Heritage Way to get to Tower Park or going behind the Brentwood Indoor Sports Complex to a walking path in The Heritage retirement community.
The tunnel to Tower Park leads you to the 47-acre park next to the big, red and white WSM tower.
The greenway is a little more than a mile around – great for walking, jogging, or biking with a little one. It encircles some multi-purpose practice fields.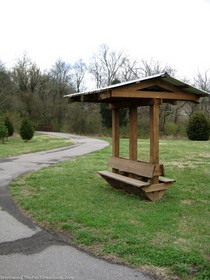 There are benches along the way and a creek on one side. It makes for a nice, low-key outing. When we were there, a family was shooting off rockets from the practice fields. That was great fun to watch.
After a quick stop at the car for a drink, we ventured the other way to The Hermitage walking path.
The path itself isn't terribly long, maybe ½ mile around, but they have exercise stations along the way that make for fun stops to test your skills. It is also a little bit of a hill to get there, so coming back is a fun downhill cruise.
It was a beautiful day and the whole time we were there, we might have passed 6-8 people on the trails … and when we passed River Park the parking lot there was full.
It is great to have this lesser-used park as an option for family outings. It would be a great place for a picnic, or for more practice riding on the greenways. We'll definitely be back!