---
This page may contain affiliate links. In addition to sharing our personal experiences, we often write about products and services that we use ourselves or that we believe would be a helpful resource for you. To support our work, and remain a free website, we receive a commission from some of the links we share.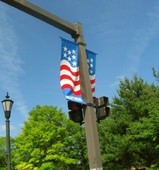 Food, flags, fun!
Here are some great ways to celebrate the Fourth of July in Brentwood, TN:
from the free Crockett Park concert…
…to special fireworks displays…
…and links to the best picnic lunches you can buy in Brentwood.
Fourth of July fun starts before the 4th!
My family has always enjoyed the community concert sponsored by the Harpeth Hills Church of Christ.
It's located on Old Hickory Blvd. in Brentwood, between Franklin Rd. and Hillsboro Rd.
Sunday, June 29th at 6:30 pm, the Williamson County Community Band plays patriotic tunes, while the church treats Brentwood to free homemade ice cream and a professional fireworks display. Harpeth Hills Church of Christ suggests your family bring your own chairs!
Sunday, July 4th at 7 pm is the Crockett Park Fourth of July concert. This year's music is provided by the Kadillacs, with a fantastic fireworks show to follow. This is probably Brentwood's best attended community concert, so come early for the best seats!
Sunday, July 4th at 7 pm is also Nashville's downtown fireworks celebration, with music by the Nashville Symphony. Jim and Lynnette share insider tips for Nashville's 4th of July fireworks, including the best places to watch and the best time to go. (You can also watch the event live on Channel 4.)
Sunday, July 4th at 7 pm the Nashville Sounds play Round Rock Express, with a post-game fireworks display right on the field!
PLANNING A 4th OF JULY PICNIC IN BRENTWOOD?
I'm a wife, mom of 4, and resident of Brentwood, Tennessee. I love finding fun new things for my family to see and do in Brentwood and the Nashville area!