Though technically not in Brentwood, Percy Warner Park — and the adjoining Edwin Warner Park are both close enough to be frequented by a number of Brentwood residents and visitors on a daily basis.
I've ridden my bike through Percy Warner Park a few times, but mostly I just enjoy driving through the park in my car.
One thing's for sure… I've been through this park dozens of times, and there hasn't been a time yet when I didn't spot at least one deer, along with numerous other forms of wildlife!
Here's a virtual auto tour through Percy Warner Park in Nashville, TN…
Percy Warner Park Tour
Warner Parks provide a great location for a number of recreational activities and entertainment including:
hiking trails
picnic areas
scenic overlooks
equestrian center
horse trails
golf courses
athletic fields
running courses
children's play areas
bicycling roads (share the road)
walking routes
auto touring
horse racing
Now, on with the tour!…
Location, Location, Location
Percy Warner Park is bordered by:
Old Hickory Blvd. on the southern end
Belle Meade Blvd. on the northern end
Chickering Road on the eastern side
Highway 100 on the westerns side
This is the view approaching Percy Warner Park from Brentwood on Old Hickory Blvd.

On your left, you'll notice baseball fields.
There's also a parking lot where bicyclists usually park their cars while biking in and around the Warner parks.
On your right, you can see the Percy Warner Equestrian Center.
This is also the site of the Iroquois Steeplechase in Nashville each May:


Just around the corner is the Warner Park Nature Center.
Coming & Going…
These are the main entrances into and exits out of Percy Warner Park.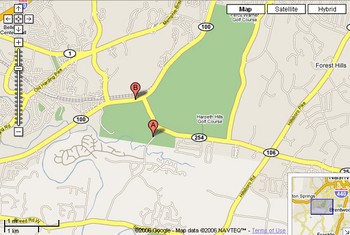 Signs Inside Percy Warner Park








Places To Kick Back & Relax…
There are a number of picnic areas in Percy Warner Park. You'll find many right along the roadside, sheltered by the surrounding trees.
There are also a bunch of picnic shelters in the park. Here are a few…






Fun Things To See & Do In The Park…
It's a make-your-own-fun kind of park! The possibilities are endless, here are some of the most popular things to do at Percy Warner Park.








More About Percy Warner Parks
Here's a map of Edwin Warner Park, plus a map of Percy Warner Park in Nashville.

Warner Parks feature 9 hiking trails, including 12 miles of trail and 4 trailheads. Maps are available at the Nature Center trailhead and here. (More here.)

Here are some reviews of Percy Warner Park. (More here.)
Warner Park Nature Center
7311 Highway 100
Nashville, TN 37221
(615) 352-6299