This post may contain affiliate links. If you buy thru these links, we may earn a commission at no additional cost to you.
---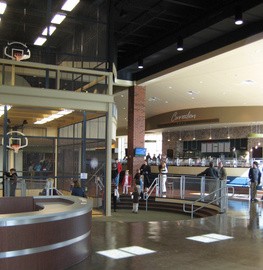 The latest cool thing to open in Brentwood is the Connection Center at Brentwood Baptist Church.
The Connection Center is the 75,000 square foot facility that was built onto the church as a part of the church's latest expansion project. It includes a café, auditorium, bookstore, and basketball courts to name a few things.
I've had a lot of people ask me why the church needs to be *even bigger*.
According to Pastor Mike Glenn:
While I'm very excited about the facilities and all the opportunities they bring, make no mistake about it, every square inch of the Connection Center — every square inch of every facility we have — was built to help people come to know Christ and to become closer to Him.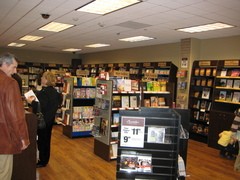 The Connection Bookstore is operated by Lifeway Christian Stores to provide easy access to resources available at any Lifeway store and also Brentwood Baptist exclusive resources.
The Connection Café is a coffee shop and café that has over 200 seats, indoor and outdoor seating, free Wi-Fi, and a stage. They offer coffee, drinks, smoothies, muffins, bagels, desserts including IveyCake Cupcakes, fruit, and Grab the Gold snack bars, They will also offer Twisted Fork Café sandwiches and salads all day, and pizza and burgers after 5:00 p.m.
The Connection Center Auditorium is a 1,000 seat multi-use space for worship, concerts, and other meetings. The Tuesday night service, Kairos, will use this space when the bleachers are installed later this month.
Other amenities include two 3-on-3 basketball courts, small group and meeting rooms, and a Biblical Marketplace area for children to experience biblical settings (coming in May 2009).
The Connection Center is open to the church and community.
Café Hours:
Monday: 7:00 a.m. – 9:00 p.m.
Tuesday: 7:00 a.m. – 10:00 p.m.
Wednesday: 7:00 a.m. – 9:00 p.m.
Thursday: 7:00 a.m. – 9:00 p.m.
Friday: 7:00 a.m. – 9:00 p.m.
Saturday: 10:00 a.m. – 6:00 p.m.
Sunday: 7:00 a.m. – 8:00 p.m.
Bookstore Hours:
Sunday: 7:30 a.m. – 1:00 p.m. and 4:30 p.m. – 8:00 p.m.
Tuesday: 4:00 p.m. – 9:30 p.m.
Wednesday: 3:00 p.m. – 8:00 p.m.