This post may contain affiliate links. If you buy thru these links, we may earn a commission at no additional cost to you.
---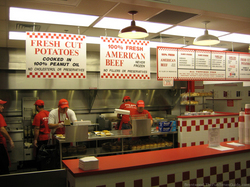 Five Guys Burgers and Fries is a restaurant in the Brentwood Place Shopping Center.
Unlike most restaurants, it has very few items from which to choose.
They have stayed with the "basics" on their menu, but those basics are fantastic!
The Menu
I visited Five Guys for the first time last week.
I was really surprised by the few choices on the menu.
They have:
burgers
fries
hotdogs
grilled cheese
bottled water
soft drinks
That's it.
They don't offer any kind of "combo" or "meal deal".
And I was disappointed that there was no sort of kids meal.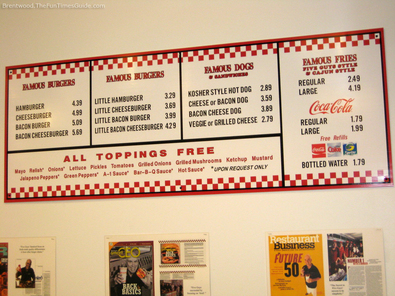 First Impressions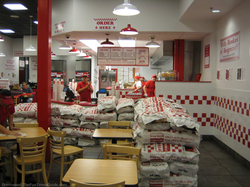 It's a very fresh, clean place with red and white checks on the wall.
And it seemed there was always someone working to clean off tables and sweep the floor.
There are boxes of bulk peanuts to snack on while you're waiting, but the floor is not covered with peanut shells like in some steak restaurants.
My only complaint on the ambiance would be the choice in music. I was not too amused with "I'm a b*tch, I'm a lover, I'm a child, I'm a mother" playing on the radio while dining with my preschool aged daughter.
How's The Food?
I ordered the Little Cheeseburger with lettuce, tomato, pickles, and ketchup. I got a Little Hamburger plain for my daughter. And I got 2 orders of fries — one Five Guys style and one Cajun.
Our food was ready after 5 to 10 minutes.
I was surprised again that our food came in a paper bag. No trays, no "for here or to go", everything comes in a paper bag. And when I looked into the bag to see the mound of fries that make up an order, I felt foolish for ordering 2. But I did want to taste both styles, so it was okay after all.
My Little Cheeseburger was fabulous. It was as good as one grilled at home — fresh and piled high with my choice of toppings — and on a white sesame seed bun that also tasted homemade. The "whole package" was really good. My daughter's plain Little Hamburger, however, wasn't anything special. In fact, the burger alone was pretty bland.
The fries are fresh cut with the skin left on and fried on-site. The Five Guys style fries are lightly salted and very tasty. I think I prefer my fries a little crispier, but they were still good. You better watch out if you order the Cajun style fries. They are spicy! I'm not too much of a wimp when it comes to spice, but after a while of eating the Cajun style fries, it was no longer enjoyable. I decided to stick with the Five Guys style.
2 Thumbs Up
All in all, I would give this restaurant 2 thumbs up for a dinner with adults.
Just be sure to order your favorite toppings on your burger, and plan to share an order of fries.
If you are going out with your kids, though, just know they don't have any deal for a kids meal and the music is sometimes questionable.