This post may contain affiliate links. If you buy thru these links, we may earn a commission at no additional cost to you.
---
Joining the Maryland Farms YMCA has been one of the BEST things about living in Brentwood, Tennessee.
This summer it unveiled a sparkling new poolscape that rivals the Brentwood YMCA on Concord Road.
Here's what we love about the resort-style kids pool, fountains, and slides…
Remember, the Maryland Farms YMCA was once the Maryland Farms Country Club!
I think that's always made it one of the nicer, less industrial YMCA's in town.
But the old kids pool, with its faded crayon fountains, had begun to show its age. There were cracks around the pool deck, leaks, and a crazy layout.
Now the old baby pool has been combined with the kid pool for a fantastic new layout!

We love the details, like the beach-style zero entries on either end.  Smart design includes a sand-colored texture and inset crabs, fish, and turtles.
This pool has as much to offer toddlers as it does to WOW school age children!  There are fountains outside the pool and even a separate, shallow baby pool attached.
It's much, much cooler than these photos show.

Older kids will love the big bucket dumper (a la Nashville Shores) and 2 short, but FAST, water slides.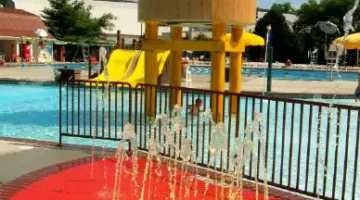 (Two giant twisty slides are located adjacent in the large pool.)
There's an umbrella-style fountain which rains small pails of water and a box of pirate treasure which will shoot you as you pass by.
If anything, there are TOO many fountains!
The center area is deep enough for swimming without being too deep for kids to stand up.  But the shoreline is so peppered with sprayers, smaller children are condensed into fountain-less pockets.
This mom loves the constant lifeguard presence (at least 2 at all times in the kid pool area) and the 10-minute breaks that are announced every hour.  It's a great chance to have a snack, dry out on the playground, or run to the bathroom…without missing any of the fun!
If you have young children and live in Brentwood, the Maryland Farms YMCA is not to be missed!
I'm a wife, mom of 4, and resident of Brentwood, Tennessee. I love finding fun new things for my family to see and do in Brentwood and the Nashville area!