This post may contain affiliate links. If you buy thru these links, we may earn a commission at no additional cost to you.
---
I was looking for something new to do with my 2-1/2 year old son on a weekly basis.
We have a small weekly schedule we follow already, but wanted to add something different to it.
After searching online for local things to do I found an article by Meredith here at The Fun Times Guide called Fun Things To Do With Kids In Cool Springs.
The Storytime at Barnes and Noble in Brentwood appealed to me. (And it's free!) So I thought I would give it a try.
The story times at Barnes and Noble are held on most Monday and Saturday mornings at 11a.m.
We decided to go on a Monday.
The book was Clifford, The Champion from the Clifford The Big Red Dog series.
First Impressions
Inside the children's area of the store I found the storytelling area easily because not only was there a small crowd of kids already there, but also it has a small animated forest rising up to the ceiling. (I think it's the Hundred Acre Woods from Winnie the Pooh.)
At the base of the trees was a small wooden stage with one chair on it for the storyteller.
There were plenty of chairs and benches for the kids to sit on right in front of the stage. They announced the story would begin over the intercom and the kids got quiet.
What Storytime At Barnes & Noble Is Like
A woman stepped onto the stage and introduced herself and the book she would read. Then she also announced that today was a special story time because after the story, we would have a visit from Clifford himself!
As she read the book, she also involved the kids in the story by asking questions about what the pictures meant or what they thought would happen on the next page. Not surprisingly, the kids really got into it and yelled out answers.
After the story was read, the kids yelled and applauded their approval.
An Extra Special Touch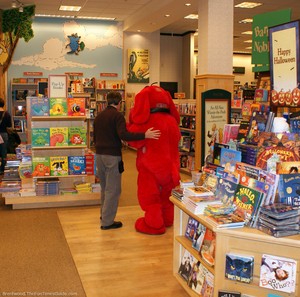 Next, it was time for Clifford to make an appearance.
He was not quite ready, so the storyteller quickly came up with an excuse that he was still in the bathtub. Then she asked the kids what that must be like and she engaged them until he was ready.
Once Clifford was ready and came around the corner, the kids were off their seats and anxiously watching him walk toward them — escorted by a friend so that he wouldn't miss the stage. (I have been in one of those suits and it's not easy to see out of!)
Once on stage, Clifford took a seat in the chair. Then, one by one, each kid walked up to Clifford for a hug and also stood for a picture if mom and dad brought a camera.
I thought it was interesting that none of them were afraid. About 20 minutes after the story began, Clifford waved goodbye and was escorted away.
Would We Go Again?
I did like the storytime at Barnes & Noble and I will go back. Obviously, all the kids enjoyed it too.
However, I think weekly is too often. Since this storytime had another aspect to it with Clifford there, it took about 20 minutes. Without him, it probably would have been only about 10 minutes.
The other reason I wouldn't go weekly is because getting out of the store without buying something each time would be a challenge!
Barnes and Noble
1701 Mallory Lane
Brentwood, TN 37027
(615) 377-9979
I live in Franklin with my husband and our toddler son. I enjoy writing about our experiences visiting places in Franklin, Cool Springs, and the Brentwood area.