This post may contain affiliate links. If you buy thru these links, we may earn a commission at no additional cost to you.
---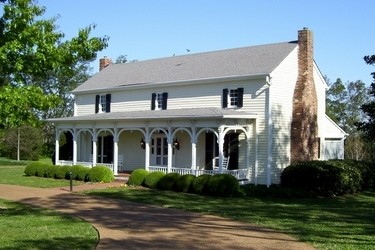 My family snapped our annual Easter picture on the steps of Cool Springs House.
We didn't even have to pay admission, because this historic gem is part of Brentwood's Crockett Park.
What's more–Cool Springs House might be Middle Tennessee's best place to hold a beautiful wedding on a budget!
That's right, because Cool Springs House is part of the Williamson County Parks and Recreation department, the city of Brentwood charges a reasonable fee for special events like meetings and weddings.
No, it's not free! But — compared to prices at other historic homes like the Belle Meade Plantation — renting Cool Springs House is a bargain.
Two Rivers Mansion in Nashville (near Opryland) is another popular spot for weddings. Even though it is managed by Metro Nashville Parks, Two Rivers Mansion costs over $500 for weddings.
The Cool Springs House is picture-perfect for portraits or weddings, with a soft yellow exterior, dark green shutters, and just the right amount of fanciful white trim. It sits at the entrance to Crockett Park, with its own circular drive just waiting for your carriage!
I love the quaint little outbuildings to the rear, but my favorite thing about Cool Springs House is the welcoming front porch, complete with rocking chairs.
So, why isn't Cool Springs House in Cool Springs?
Well, it used to be!
The Cool Springs House once sat at the intersection of Mallory Lane and Carothers Blvd. When the Galleria Mall area began to boom in 1993, the City of Brentwood took ownership to preserve it for generations.
The home was moved and re-installed as the showpiece of Crockett Park.
Don't just look at my quickie photos of Cool Springs House, though.
For a real treat, I've found a pictures of a Cool Springs House wedding. The photos are so gorgeous, you'll want to take a peek — even if you're already married!
Too bad there aren't any weddings in my future. For now, I'll just have to keep dressing up the kids and posing them on Cool Springs House's porch!
Calling all Brides!
Are you getting married in Nashville, Tennessee?
Don't miss our page that's filled with local Nashville wedding information, including firsthand reviews of historic homes for rent, reception sites in downtown Nashville, the best–and cheapest florists, and much, much more!
I'm a wife, mom of 4, and resident of Brentwood, Tennessee. I love finding fun new things for my family to see and do in Brentwood and the Nashville area!