This post may contain affiliate links. If you buy thru these links, we may earn a commission at no additional cost to you.
---
I stopped by the grand opening of
GFS Marketplace
in Cool Springs. One of two restaurant-supply stores in the Nashville area, GFS Marketplace is located across from Costco on Seaboard Lane.
A restaurant supply store near Brentwood that doesn't require membership?
Hurray!
We've always bought our party foods from Nashville Cash and Carry on Charlotte Avenue (formerly Robert Orr/Sysco).
We dropped our membership to Sam's Club last year.
Our family just didn't NEED enough food to justify the membership. That's why I'm so excited about this new shopping option!
Customers can buy restaurant size quantities without a tax id or membership.
Instead of buying individual tomatoes, you buy a whole case of them. Or, a giant bag of spinach for the cost of two Fresh Express bags.
I thought butter was a good buy at
GFS Marketplace
: $2.19 a pound.
It doesn't come in sticks, though. You'll have to cut this big block of butter by hand.
Eggs are sold 2-1/2 dozen for $3.50.
Need a few giant kosher dills?
GFS Marketplace sells them in glass pickle jars and in food-service plastic buckets.
At the grand opening, shoppers were busy checking out all the frozen foods sold at
GFS Marketplace
. I spotted a lot of Sara Lee Food Service pies and sheet cakes.
If there's a particular entree you like at a quick-service restaurant, you can probably find something similar in the frozen food aisle at GFS.
Frozen frog legs, anyone?
Do they really taste like chicken?
You can find all the restaurant size foods you need at
GFS Marketplace
.
These giant jars of mayonnaise would be perfect for a family reunion picnic or a school concession stand.
Having a spaghetti supper?
You can buy all kinds of pasta in huge bags at Gordon Food Service…and the giant cans of tomato sauce to go on top!
Unlike Costco, which sells multi-packs of canned goods, GFS Marketplace primarily offers large, restaurant size cans of vegetables and sauce.
Along with restaurant food, you can also buy commercial cleaners and janitorial equipment at
GFS Marketplace
.
I even spotted some concentrated dock and dumpster treatment.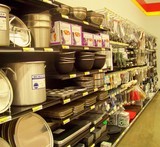 While you're buying restaurant food, pick up a couple of restaurant pans in which to cook!
GFS Marketplace stocks a little bit of everything:
pots and pans
serving spoons, spatulas, and whisks
hot pads and dish towels
I enjoyed seeing all that GFS Marketplace in Cool Springs has to offer. Next time I have to cater a luncheon for a large group, I'll be back!
Gordon Food Service Market Hours
Monday through Saturday, 8 am to 8 pm
Sunday, 12 pm to 5 pm
GFS Marketplace accepts Mastercard, Discover, Visa, and American Express.
Related Articles:
Catering Food For A Party In Brentwood
Brentwood's Fresh Market Is A Fun Place To Shop
Edible Arrangements In Maryland Farms Makes Buffet Centerpieces
Sams vs. Costco: Which Is Best?
I'm a wife, mom of 4, and resident of Brentwood, Tennessee. I love finding fun new things for my family to see and do in Brentwood and the Nashville area!