This post may contain affiliate links. If you buy thru these links, we may earn a commission at no additional cost to you.
---
Recently I wrote an article about the Nolensville Feed Mill, a great place to visit.
My plan was to write about all the places to visit in Nolensville but I found that The Feed Mill was worth a whole story itself.
However, I didn't want you to miss some of the other places in town that make a visit to Nolensville a fun way to spend an afternoon.
In addition to the Feed Mill, Nolensville has some other great places to stop in and browse…
The Curly Willow
Close to The Feed Mill is a little antique/craft store called The Curly Willow (moved here).
The Curly Willow looks small from the outside, but the inside is brimming with interesting antiques, jewelry and crafts.
It is a consignment store, which means there is a lot of variation in the different items the store offers.
My daughter and I stopped in about a half hour before closing time, and I think we could have stayed much longer looking at all the treasures and unique items. I liked the history lesson I could give my daughter as I showed her antique games and signs and quilts.
The prices are very good, some of the best I've seen for crafts and antiques. Everything is displayed beautifully but make sure to take your time. There are so many things, it would be easy to miss something that would steal your heart. My daughter loved the upstairs display with dolls and children's furniture.
I loved many of the antiques. I kept trying to find a reason to justify buying the antique cash register, but it is difficult to find a place in a home to display an antique cash register. There were lots of beautiful antique dishes, containers, and jars. There were lots of knick knacks that reminded me of items that were in my grandmother's house.
Jackie Stanley, who was working the day we were in, was personable and helpful. I am sure that if you have special items that you have been looking for, Jackie could help you track them down.
Although it was close to closing time we didn't feel rushed — I'm sure we could have stayed much later and Jackie wouldn't have minded. It is the type of store where you are going to get really good customer service.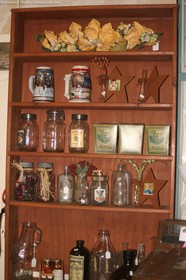 The store carried modern craft items — they had a good selection of home decoration items, candles, signs, and jewelry.
The hours of the store vary. My daughter and I laughed at the sign on the door which said "Most days I open about 10 a.m. or 11 a.m. Occasionally as early as 9 a.m. but some days as late as 12 p.m. or 1 p.m.."
In reality, Jackie said the hours for January and February are 10 a.m. to 5 p.m. Tuesday through Saturday. The store is closed on Sunday and Monday.
Martin's Barbeque
After leaving ShopGirl you will hopefully be hungry. Save time for lunch or dinner at Martin's Barbeque.
The first time I drove by Martin's I knew I wanted to eat there, simply because the thought of a barbeque place attached to an auto repair place (Patterson's Auto Repair) made me smile.
I had also been on Martin's website and found the owner's blog and spent an hour or so reading about his joys and trials of starting a barbeque joint in Nolensville, TN. This made me want to visit even more.
I brought my father-in-law along because he can appreciate great barbeque. We both agreed that Martin's just looks like the kind of barbeque joint you want to go into. It is a "shack" with great front porch and a deck they use to serve people in good weather. The inside is small but cool looking, with wood walls decorated with framed photos and license plates.
Service is "order at the window" but the folks working there are happy to make suggestions. The menu had a lot of variety for a barbeque place. The smoked bologna sandwich, catfish poboy and tamales all seemed like I would like them, but in the end I went traditional and ordered a brisket sandwich with fries. My father-in-law went for the pulled pork sandwich and slaw. At the counter, they asked me what kind of sauce I wanted and I told them to give me the hottest. I was then asked "are you sure?" so I said to put it on the side.
Service was fast. I must say that when I got my sandwich I put a couple of tablespoons of the sauce on it before tasting it. I love spicy food so I figured I would be fine. I took a healthy bite into the sandwich and started telling my father-in-law how the sauce wasn't all that hot. At that point I did not even finish my sentence because the heat of the sauce kicked in. I'm ashamed to say a few unladylike and probably loud words set in as the heat of the sauce got to me. I could feel the guys at the counter getting a little tickled, and I'm pretty sure that I wasn't the first person in their store who had tears running from their eyes due to the sauce. Habanera is the secret to making it hot and from what I tasted, there was plenty of it.
Lucky for me, I only spread it on the top of my sandwich. I then mixed the milder sweet sauce in and from there on, I really enjoyed my meal. The brisket was tender and not too fatty and had a good smoked flavor to it. The French fries were great as well, hand cut, seasoned well and hot. My father-in-law's pulled pork was moist, and the sandwich was piled high with meat. His slaw had a good flavor to it. We both washed our meals down with some sweet tea.
Martin's offers moon pies for dessert (99 cents) and different desserts each day. The day I was there, the carrot cake looked fantastic but I was so full I couldn't give it a try. One woman in the restaurant told me I must try to be there when the coconut cake is on the menu.
Availability of the food is hit and miss. Several people told me to get to Martin's early on the weekend evenings because they frequently run out of meat, as well as desserts. Quantity of food is good and the price is good as well. A couple can get a large meal there, and drinks, for under $25.
Martin's is very kid friendly. It is noisy enough that children would fit in. A non-barbeque-eating child would have no problems. The children's menu includes hot dogs, chicken fingers, and even a cheese quesadilla.
Martin's is one of those places I plan on visiting again and again. I want to try several of the items on their menu. On his blog, Patrick Martin intrigues me and really makes me want to go back and taste their gumbo or etouffee'. I read a whole blog entry from him about making roux, making me determined to try his Cajun food.
I do have to admit that Martin's isn't the best tasting barbeque I've ever had. To be fair, though, I need to try more menu items and go back a couple of times However, it has such a great atmosphere and I love how passionately the owner is working to make his business succeed. In a town with few restaurants, Nolensville is exceptionally lucky to have Martins.
In Sum…
Stops at The Feed Mill, The Curly Willow, ShopGirl and Martin's will give you a fun afternoon of browsing, a great meal and probably some good treasures.
It is definitely worth the drive to Nolensville, Tennessee.
I recently moved to the area and am on a fast track to getting to know my way around. I have 4 kids, so I will be writing a lot about family-friendly activities. I also network with several other mothers and am always looking for good ideas.