This post may contain affiliate links. If you buy thru these links, we may earn a commission at no additional cost to you.
---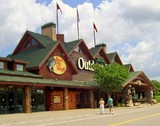 Let's face it: Bass Pro Shop Outdoor World is a monument to testosterone.
But that doesn't mean you should send the men to Opry Mills alone!
Find out why Bass Pro Shop Outdoor World is a fun place to take the kids in Nashville!
After all, it's air-conditioned!
Nashville's Bass Pro Outdoor World is fascinating to children of ALL ages:
Let's start with that amazing fresh water aquarium! Quiz your kids with the fish identification guide.
—>Did you know? Bass Pro feeds the fish in this aquarium on Mondays and Fridays at 4 pm.
Then move on to the stuffed critters. Everywhere you look, Bass Pro Shop Outdoor World tucks giant bears, meddling racoons, tiny chipmunks.
Make it a game: who can spot the most animals?

Look down….at the animal tracks pressed into the concrete floor.
Toddlers especially love following the trail!
Test out the tents.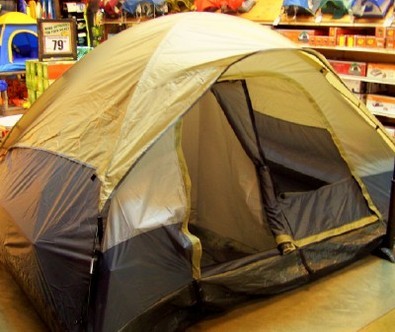 —>Bass Pro Shop Outdoor World even sells outdoor gear especially sized for children, from clothing to life jackets to fishing rods.

Make up a campfire story about the hiker who fell through the bridge as a mountain lion advanced.
What was he doing in that canyon?

Bring your extra pennies along.
20 cents will buy you precious time at the waterfall penny toss and the Tennessee Aquarium coin spinner.
Older children can use their quarters at the old-fashioned shooting gallery instead.
Glitter finish attracts everyone.
Kids LOVE to climb aboard the pontoon and speed boats, testing out the swivel seats and ooh-ing over boats that have their own sinks.
(Stay close to your children, though, because some boats sit high above the concrete floor.)

Take advantage of the photo opportunities.
The Bass Pro Outdoor World designers use so much creativity in every detail! We love these rustic fish benches.
SHHHH! Opry Mills has free children's activities throughout the entire building, but don't tell my kids. I convinced them that the mall ends at Outdoor World!
—>Here's our review of Brentwood's REI outdoor store, including fun things to do as a family at REI.
I'm a wife, mom of 4, and resident of Brentwood, Tennessee. I love finding fun new things for my family to see and do in Brentwood and the Nashville area!