This post may contain affiliate links. If you buy thru these links, we may earn a commission at no additional cost to you.
---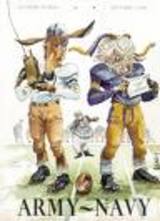 Most of Nashville will be waiting for the SEC Championship Game between Tennessee and LSU this Saturday.
But the biggest rivalry in the history of football will take place earlier in the day: the 108th Army-Navy football game.
My husband played for Army, so watching this game is a winter family tradition.
I just checked what time CBS will air this year's Army-Navy Game in Nashville.
The Army Navy Game kicks off at 12 pm Eastern time in Baltimore.
However, local coverage for Nashville will begin at 11 am Central time on CBS News Channel 5.
(The SEC Championship Game between Tennessee and LSU will air later in the afternoon at 3 pm on News Channel 5.)
The Baltimore CBS station will cover the entire March On and pre-game flyover show beginning at 9 am Eastern time. (The March On is a lengthy process that begins about two hours before kickoff.)
We once looked forward to the extensive pre-game coverage almost as much as the Army-Navy Game itself:
March On by cadets and midshipmen
Interviews with former graduates like Norman Schwartzkopf, Pete Dawkins, and Roger Staubauch
Spirit messages delivered from active duty units around the world (and in space!)
Unfortunately, CBS has trimmed much of this coverage to small snippets just prior to commercials. If you're watching the Army-Navy Game in the stadium, these spirit messages are shown on Jumbotron screens in lieu of commercial breaks.
What else can I say? At least one Brentwood family will be rooting for the Black Knights!
Here are a few YouTube Army-Navy Spirit Spots from previous years:
This 2006 Spirit Spot from the 15th Co. is pretty funny, especially because it includes a jab at Air Force:
Why did Navy have to upload all the cool Spirit Spots to YouTube? This 2004 play on
Lord of The Rings
was so clever:
Finally, here's a 2006 Army Spirit Spot that plays off the movie Annapolis:
I'm a wife, mom of 4, and resident of Brentwood, Tennessee. I love finding fun new things for my family to see and do in Brentwood and the Nashville area!