I had a great experience with Andrews Cadillac in the Maryland Farms area.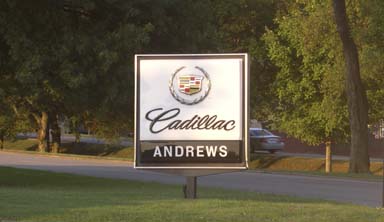 After having some minor damage on my car during a storm 2 weeks ago, I was not looking forward to going through the process of getting it fixed. Much to my surprise, it was easy.
I called the Collision Center at Andrews Cadillac to set up an appointment for the estimate.
Good news: no appointment was needed! They told me to bring it in sometime over the next few days.
I took the car in and was walking out the door with the written estimate in-hand less than 10 minutes after my arrival. I arranged to bring the car in the next week and was told that I could expect it back in 3 days.
The day after dropping off the car, I got the call saying it was ready. Not 3 days, not even 2 days. The NEXT day. I used the Courtesy Shuttle Service for drop off and pick up. The car looked great and the cost matched the estimate.
I found out that the dealership is owned and operated by a father-son team, and that family is a priority. They close at 6 p.m. during the week, and are not open on Sunday. Nice to hear these days.
Bottom Line: Buying a car is never "fun" (at least not for me). If the rest of Andrews Cadillac runs as well as the Collision Center, this is a place I'll visit when car shopping.
I live in Brentwood, Tennessee and write about fun things to see & do there. I also enjoy using rubber stamps and scrapbooking materials to make my own cards. I use Stampin' Up products for a lot of my handmade cards.
.