This post may contain affiliate links. If you buy thru these links, we may earn a commission at no additional cost to you.
---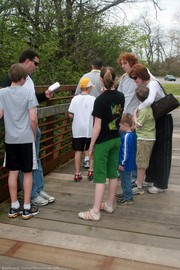 If you are looking for an adventurous way to spend a beautiful Brentwood afternoon, try Letterboxing!
My family discovered letterboxing several years ago, and we were excited when we moved to the area to see what local letterboxes we could find here.
We had some friends in town and thought it might be a good way to show them Brentwood, so we chose 2 letterboxes to hunt down.
Like us, they have a high school child and younger kids as well; this is an activity that is fun for different ages. (It makes a great date activity, as well.)
What is letterboxing?
Think part scavenger hunt – part hike – part navigating.
It is a treasure hunt for boxes that have been hidden all throughout the United States.
Intrigued? Want to try it?
Start by going to a letterboxing website. The best one I have found is Letterboxing.org.
At that website, click on search for boxes. You can type in the area of the country you want to find a letterbox in and it will help you.
Is Letterboxing The Same As Geocaching?
Unlike geocaching, you do not need a GPS system for letterboxing.
There are 5 things you will need:
An inexpensive compass.
A stamp pad.
A stamp of some sort that will reflect your personality — you can have one made at Office Max or Kinkos or you can do like we did and just buy one from a craft store like Michaels.
A small journal style log book — this can be a tiny notebook or it can be something elaborate, it's completely up to you.
I would also suggest bringing some bug spray along — sometimes you will be in wooded areas and the bug spray comes in handy.
In order to find letterboxes, you sometimes have to solve a puzzle online in order to know what you are looking for. Sometimes you just have to know a place a little bit and know what landmarks to look for.
Brentwood, TN Letterboxing
We decided to hunt for one of the letterboxes called Old Buzzards: Strength and Bashful.
This was the only box that pulled up when we typed in Brentwood, Tennessee on Letterboxing.org. Once we pulled up that description though, it gave us a chance to see a list of other letterboxes that were close and there were several in Brentwood.
We took off on a gorgeous day, were able to follow the directions and found the place to start hunting. (I don't want to say where we went, because I don't want to give too much away.)
Once we got to the location, my husband read off the directions and we started down the list of the things we needed to do to find the box.
It's funny how even the adults get pretty excited about the hunt.
After some twists and turns, we found our first letterbox. The boxes are almost always hidden out of plain site. Once you see one you, will love knowing that it is there all the time and most people don't even know it!
What's Inside A Letterbox?
Once you find a box, you open it. There will be several items inside.
There is usually a pad of paper and a stamp. You stamp the log book in the box with your stamp, and then use the stamp from the box to stamp the log book you brought with you. You can also write a note.
Each box can be unique. Sometimes we have found disposable cameras in the box that ask finders to take a picture. There have been small albums in the boxes where we could see the photos of others who had been there and taken their picture. We have also been to boxes where they asked the finder to take an item and leave an item. The boxes are usually filled with random small trinkets like: Legos, postcards, Cracker Jack prizes, match books, etc.
The day we hunted in Brentwood, we saw something we hadn't seen before: a "hitchhiker." A hitchhiker is a small container (the one we found was a blue tube) that is a "moveable box." The idea is that you find it in one letterbox and then you move it to another letterbox, making it continuously moving!
Why I Like Letterboxing
I love letterboxing for so many reasons.
A good treasure hunt is always fun, but a chance to get out in nature and have family fun for free is a really great day.
If you go, remember to follow letterboxing etiquette:
Make sure to not disturb the environment.
Always put the box back exactly like you found it.
Don't give away locations.
After you hunt a few boxes and get the hang of it, feel free to hide a few boxes of your own — it is fun to see who visits them and the different stamps and messages they send.
Have a great time letterboxers. Happy hunting!
I recently moved to the area and am on a fast track to getting to know my way around. I have 4 kids, so I will be writing a lot about family-friendly activities. I also network with several other mothers and am always looking for good ideas.