This post may contain affiliate links. If you buy thru these links, we may earn a commission at no additional cost to you.
---
Which Nashville historic estate is…
owned by the state of Tennessee
a fun place to hike near Brentwood
one of the best free things to do in Nashville?
Let me take you on a photo tour of Ellington Agricultural Center!
Brentwood Hall, the historic home, was once built by "the J.P. Morgan of the South."
Now, it houses the agriculture and wildlife departments for the state of Tennessee.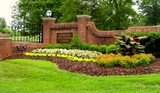 Ellington Agricultural Center has two entrances:
one at Hogan Road, off Franklin Rd.
one on Edmondson Pike near Old Hickory
—>Here are complete directions to the Ellington Agricultural Center.

The historic estate has all sorts of interesting buildings, such as this small library.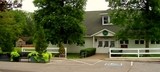 The Tennessee Agricultural Museum is a former plantation barn on the Ellington grounds.
The TN Agricultural Museum is full of interesting artifacts, like this covered wagon, historic farming implements, and even a reproduction farm kitchen.
The TN Agricultural Museum charges no admission. It is open only during weekdays, except for special events like Super Saturdays and the Music and Molasses Festival.
A working barn to the rear stables Metro's mounted police horses.
You can usually see these beautiful creatures grazing in the field if you visit between 12:30 and 1:30.
Behind the museum lies a charming vegetable garden with plants of historic interest, like cotton and heirloom seeds.
This small herb garden is nestled behind a log cabin on display for visitors.
The museum offers a guide for a short nature walk behind the log cabins. There are more extensive walking trails on the other side of the grounds.
The nature trail ends at this scenic gazebo. The Tennessee Iris Garden is one of Nashville's most popular outdoor wedding locations.
You won't believe the demonstration gardens planted all over the Ellington grounds. It's a fantastic place to get ideas from our state's master gardeners and agricultural experts!
—>Here is the official slide show with more photographs of the Ellington Agricultural Center.
I'm a wife, mom of 4, and resident of Brentwood, Tennessee. I love finding fun new things for my family to see and do in Brentwood and the Nashville area!