This post may contain affiliate links. If you buy thru these links, we may earn a commission at no additional cost to you.
---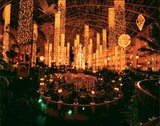 I love finding new Christmas decorating ideas!
Here in Brentwood, we have 3 incredible Christmas tree design centers nearby:
Here's how you can see the latest holiday decorating themes, ornaments, and color schemes… on your very own Brentwood Christmas tree tour!
We used to go to Cheekwood's Festival of Trees each year, but soon tired of the high price.
Then, we trekked across town to Opryland's Holiday Lights extravaganza.
Now, my mom and I simply spend an afternoon gleaning the best Christmas ideas and trends right here in Brentwood.
 
Here's the route we take to tour Brentwood's Christmas Trees:

Stop #1:  Start at ReCreations, a dramatic interior design shop on Sidco Dr. (off Harding).
The Christmas trees and wreaths there will knock your socks off. (And if the decor doesn't, the astoundingly high price tags will!)
Stop #2:  Next, wind your way down Trousdale through the neighborhood of Crieve Hall.
The Ellington Agricultural Center hosts an annual Christmas At Ellington open house.
Along with refreshments and local music, you can see the Garden Club's tree and decorations–crafted exclusively with indigenous plants and dried materials. 
Stop #3:  Head down Franklin Road to the heart of Brentwood. Inside-Out Home Furnishings sits at the intersection of Church Street and Wilson Pike.
Normally, you'll find a huge selection of fine patio furniture there. In late fall, Inside-Out becomes a winter wonderland with 14 theme trees on display.
I've heard that some families even take their Christmas photos at Inside-Out's display. Not to be missed!
Here is more information about Inside-Out's Christmas display… with photos!
Stop #4:  If you have any energy left–or are starting from the Franklin side of Brentwood — include Trees-n-Trends (formerly Silk Tree Factory) on Hwy. 96.
We were astounded at the creative Christmas ideas, each grouped in individual niches with wreaths, ornaments, and trees piled with ribbon. We especially liked the pheasant feather tree and the candy cane themed tree.Trees-n-Trends is an inexpensive place to buy decorator ornaments similar to what you'll find at ReCreations and Inside-Out.
If you know of any other Nashville Christmas tree displays, please let me know. As you can tell, I'm a holiday decorating junkie… and I just can't get enough ideas for my own house!
I'm a wife, mom of 4, and resident of Brentwood, Tennessee. I love finding fun new things for my family to see and do in Brentwood and the Nashville area!