This post may contain affiliate links. If you buy thru these links, we may earn a commission at no additional cost to you.
---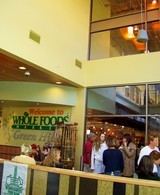 Have you fought the Green Hills traffic to Nashville's new Whole Foods yet?
I took the "sneak peek" tour benefiting Second Harvest Food Bank last week.
All I can say is…WOW!
Here are my first impressions of Whole Foods, highlights of the guided tour, and what Williamson Co. foodies want to know:
What will happen to Wild Oats in Franklin?
Just before building the Nashville store, Whole Foods bought the Wild Oats chain.
The Nashville Wild Oats closed on the same day that Whole Foods opened.
The Franklin Wild Oats (in Cool Springs) will continue to operate, though it will carry Whole Foods' store brand, 365.
So what is the new Whole Foods like?
My first thoughts were bright–fresh–artistic.
Individual: not overwhelming, like Costco, but with more of an entertainment component than Fresh Market.
Inviting: 3 different places places to sit and eat or type (free WiFi!), from a balcony cafe upstairs to a charcoal-fired smoke bar downstairs.
Artisan: from cheeses to breads to beer, from the handpainted chalkboard signs to the huge sculptured fish over the seafood counter.
Inspiring: the Salud! cooking school area is a dream kitchen worth seeing.
Where do you park at the new Whole Foods?
There is a multi-level parking garage just behind Whole Foods, with access between Whole Foods and Whole Body, its sister store. If you're lucky, you may be able to snag a streetside space along the Hill Center's esplanade. Free valet parking is also available.
How do you find Whole Foods in Nashville?
From Brentwood, take Old Hickory Blvd. west. Turn right on Hillsboro Rd. The Hill Center opens on Hillsboro Rd and on Hillsboro Circle to the rear. Whole Foods faces the Green Hills YMCA.
How late is Whole Foods Nashville open?
7 a.m. to 10 p.m., Monday through Saturday
8 a.m. to 9 p.m., Sunday
I look forward to exploring and sharing more of Green Hills' new shopping area with the Fun Times Guide to Brentwood! Stay tuned for more detailed reviews of Whole Foods, West Elm, Anthropologie, and all the wonderful restaurants opening now.
Nashville Whole Foods lovers may also be interested in these local food resources:
I'm a wife, mom of 4, and resident of Brentwood, Tennessee. I love finding fun new things for my family to see and do in Brentwood and the Nashville area!