This post may contain affiliate links. If you buy thru these links, we may earn a commission at no additional cost to you.
---
One of Brentwood's most beloved Christian singer/songwriters has suffered a terrible loss tonight.
Steven Curtis Chapman's five-year-old daughter Maria was killed in his Williamson county driveway.
Following is more information on the Chapman accident, video of his touching song Cinderella, Harpeth Hills Church of Christ, and an official address for Chapman fans.
Steven Curtis Chapman has always been a celebrity who seems. Much like a regular guy.
I've seen his family at several spots between Brentwood and Franklin.
Perhaps that's why this tragedy hits so close to home.  Does anyone love children more than a couple who has 3 and adopts 3 more?
According to the Tennessean, Chapman's daughter was hit by her teenage brother, driving a Toyota Land Cruiser down the gravel driveway.  She was life-flighted to Vanderbilt Children's Hospital.
Maria's death was announced at the Wednesday night service of the Chapman's church.  Brentwood's Harpeth Hills Church of Christ is located on Old Hickory Blvd. between Franklin Rd. and Hillsboro Rd.   The Tennessean reported that Maria had just graduated from its excellent preschool.
—>You can send a free e-card with the song Cinderella to someone special today.
If there's anything today's accident has taught us, don't wait.  Here's a quotation from Stephen Curtis Chapman's Cinderella book:
As the clock strikes midnight, remember…
Each moment we have to spend with our children is a blessing from above.
Here are some tributes to the Steven Curtis Chapman family online: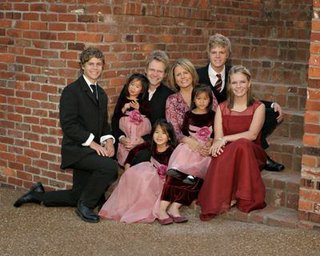 If you'd like to send a note of condolence to the Chapman family, here is Steven Curtis Chapman's official fanmail address:
Steven Curtis Chapman
PO Box 150156
Nashville, TN 37215
USA
According to the Chapman website, donations to ShaoHannah's Hope will be accepted instead of flowers.
Saturday Update: News Channel 5 reports that Maria Chapman was honored in a funeral service at Christ Presbyterian Church in downtown Nashville.
I'm a wife, mom of 4, and resident of Brentwood, Tennessee. I love finding fun new things for my family to see and do in Brentwood and the Nashville area!