This post may contain affiliate links. If you buy thru these links, we may earn a commission at no additional cost to you.
---
Did the strap on your Coach purse break?
Do your Rockports need new soles?
Is your Hartman luggage fraying at the seams?
If you're looking for an old-fashioned cobbler shop, visit Brentwood Shoe and Luggage Repair on Church Street.
We did, and for only $6.50 my husband's favorite boots are good as new!
In today's world, everything is disposable.
But quality handbags and shoes are too good to throw away at the first sign of wear.
That's why we were so excited to find this shoe repair store right in the heart of Brentwood!
Brentwood Shoe and Luggage Repair sits at 7018 Church St East between Franklin Road and I-65.
Brentwood Shoe and Luggage Repair is open:
Monday through Friday, 7:30 to 6
Don't let its shabby exterior fool you.
Brentwood Shoe and Luggage Repair is a first class operation with few frills.
Inside, you'll find an old wooden shoe sorter filled with orders.
The prices are extremely reasonable.
The customer service was prompt and businesslike.
I was surprised that Clarks, an expensive shoe to begin with, doesn't offer any sort of warranty. The stitching on these boots unraveled when the rest of the shoe showed little to no other wear.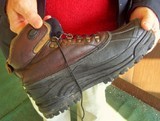 My husband called Brentwood Shoe and Luggage Repair before sending these Clarks to Goodwill.
The Brentwood Shoe and Luggage Repair phone number is (615) 661-9230.
The owner estimated that the repair would cost about $9, well worth it for $100 boots.
When we picked them up a week later, the final cost was only $6.50. Wow!
Next time we have shoes that need resoling, straps that need restitching, or leather luggage that needs refurbishing, we'll be going to Brentwood Shoe and Luggage Repair…again.
—>Looking for a great buy on designer shoes in the Brentwood area? Find out why we think Marti and Liz Shoes in Cool Springs is one of the best shoe stores in Nashville!
I'm a wife, mom of 4, and resident of Brentwood, Tennessee. I love finding fun new things for my family to see and do in Brentwood and the Nashville area!