This post may contain affiliate links. If you buy thru these links, we may earn a commission at no additional cost to you.
---
Y'all already know how much I love giving Tennessee products and local foods.
Well, I think I've found the motherlode!
Check out these cool Tennessee gifts, cards, and books from the Tennessee State Museum's gift shop…
The Tennessee State Museum is a free museum located at the bottom of TPAC in downtown Nashville.
Its gift shop is full of attractive products, well above the average souvenir shop in quality.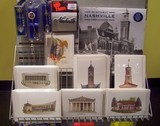 Of course, you'll find the traditional souvenir spoons and cups emblazoned with Tennessee, but you'll also find Nashville artist Phil Ponder's depictions of historical sites on notecards.
Okay, you've heard me rave about the Spirit of Nashville series postcards. Now buy the whole set in a collectible coffee table book!
The Tennessee State Museum also stocks unique Tennessee food products like stone ground corn meal from Evins Mill and blackberry preserves from the Loveless Cafe.
Kids will love the generous selection of children's products, even the fun ones like historical figures.
Can't say that I've ever seen a Davy Crockett doll before!
Moms will love the huge rack of historical coloring books and nonfiction geared toward kids.
I don't think I've ever seen so many Tennessee titles for kids before, not even at the library.
The next time my family takes a field trip to the Tennessee State Museum in downtown Nashville, I'll be bringing a shopping list and some extra cash along!
If you like that, then you'll love these…
I'm a wife, mom of 4, and resident of Brentwood, Tennessee. I love finding fun new things for my family to see and do in Brentwood and the Nashville area!