This post may contain affiliate links. If you buy thru these links, we may earn a commission at no additional cost to you.
---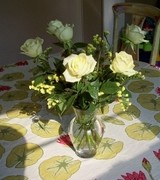 I was so surprised when a Nashville florist left this rose bouquet on my doorstep!
I'm a flower snob. I usually make my own bouquets from the garden or wholesale flower shops in the Nashville area.
If you have to send flowers to Brentwood, TN, I recommend calling a local florist directly.
You'll have more reassurance of overall style and quality. You can also give specific instructions, like "lose the FTD mug, the glitter-sprayed carnations and please, oh, please–no leather leaf fern!"
In the spirit of honesty, I have to say that the flowers above were ordered through 1-800-FLOWERS. The Nashville florist Emma's Flowers filled the order. However, online flower orders don't always turn out so well.
Lucky for you, I've noticed a few Brentwood, Tennessee florists that always exhibit good taste!
Brentwood, TN Florists
The gold standard for elegant floral design in Nashville has always been The Tulip Tree.
Once a fixture in Belle Meade's Westgate Shopping Center, The Tulip Tree has since moved to a larger space at 95 White Bridge Road, (615) 352-1466.
In case my husband is reading this, I'll repeat: I'd rather have the Tulip Tree's smallest European bouquet than 2 dozen red roses from any other Nashville florist!
I've also noticed the work of Rebel Hill Florist, just south of Brentwood proper off Harding Road. I am always impressed with Rebel Hill's slightly wild, natural designs and rich color choice.
At a recent funeral visitation, 2 baskets by Rebel Hill stood out from the sea of ordinary sprays. (Yes, you got me. In funeral homes, I am the one trying not to cry by scrutinizing the flowers.) Rebel Hill Florist, 4812 Trousdale Drive, (615) 833-8555.
Want a traditional Brentwood, Tennessee florist? Accent Flowers on Wilson Pike Circle has been in business for over 20 years.
If you like to arrange your own flowers, you can always buy The Fresh Market's roses for $8 a dozen.
The Fresh Market also sells mixed bouquets and potted plants like orchids — great take-with-you hostess or hospital gifts. The Fresh Market is located in the Hill Center on Franklin Road, (615) 373-9402
Looking for something more unusual? Send a fruit bouquet from Edible Arrangements in Maryland Farms instead!
Here are some great florists in nearby Franklin, Tennessee.
I'm a wife, mom of 4, and resident of Brentwood, Tennessee. I love finding fun new things for my family to see and do in Brentwood and the Nashville area!