This post may contain affiliate links. If you buy thru these links, we may earn a commission at no additional cost to you.
---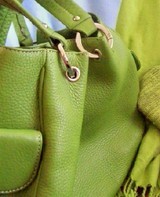 It's ironic that the nicest, safest neighborhood we've ever had…
…is also the first place we've ever been robbed.
I always see purse snatchings on TV, but I never thought it would happen to me.
Find our more about my family's Christmas Brentwood break-in below.
My husband has always reminded me NEVER to leave my purse in the car.
Not even when the car is locked.
I only wish I had listened.
We had made a late-night run to the Target on Old Hickory Blvd. In the confusion of unloading, getting my mom out of the car and carrying a sleeping child inside, I left my purse beneath the car seat and locked the door.
I woke at 4:45 am. When I came into the kitchen, I noticed a faint dinging from the driveway. My car door was ajar. I went outside to investigate.
You guessed it–my purse was gone.
I immediately called the 1-800 number to report my Visa debit card as stolen. It was 5:05 am. Only 30 minutes earlier, the thief charged $400 at the Walmart on Nolensville Rd.
Had I not woken so early, I might not have reported the card stolen before more damage was done. All told, they took my newly-loaded Tracfone, $50 in gift cards, $60 in cash and a checkbook.
The customer service representative at our credit union was very helpful. She:
figured out which check numbers were left in my checkbook
placed a verbal Stop Payment on those checks
initiated the paperwork to get my money refunded from the stolen Visa check card
explained how to report the burglary to the police
gave me the fraud alert numbers for Experian, Transunion, and Equifax
After we completed the police report, I let my neighbors know what happened. Apparently, break-ins like this are not uncommon in Brentwood. Anyone remember the car burglaries at the Maryland Farms YMCA a couple of years ago?
I'll keep you updated as I replace my driver's license, worry about identity theft, and install some new home security measures. In the meantime, hold tight to those wallets!
Follow Up Articles:
Find out how I replaced my driver's license at the quickest and easiest DMV in the Nashville area.
Here's why I invested $6.50 a month in Dave Ramsey's recommended identity theft protection insurance.
I'm a wife, mom of 4, and resident of Brentwood, Tennessee. I love finding fun new things for my family to see and do in Brentwood and the Nashville area!