---
This post may contain affiliate links. If you purchase through these links, we may earn a small commission at no additional cost to yourself.
---
If you're looking for an elegant wedding location near Brentwood, look no farther than the Nashville City Club in downtown Nashville.
We attended an evening wedding reception there last weekend.
The only thing more stunning than the hors d'oeuvres was the brilliant skyline through the Nashville City Club's floor to ceiling windows.
The wedding was held at the Downtown Presbyterian Church, a stately historic building with an Egyptian motif.
Guests could walk from the church to the SunTrust Plaza.
—>You can take a virtual tour of the Downtown Presbyterian Church here.
The Nashville City Club sits at the very top floor.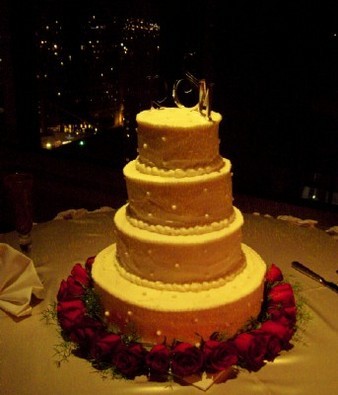 As you walk through the Nashville City Club's foyer, you face a grand piano with a backdrop of the black night sky beyond. Our friend's florist decorated the top of the piano with family wedding photos, pillar candles, and rose petals.
So romantic!
To the left is a cozy library room, complete with fireplace and bookshelves. The Nashville City Club set tables among the sofas. The florist lined the mantel with more pillar candles and greenery.
To the right of the piano is a dance floor, carving station, and hors d'oeuvres buffet. Round tables covered in crisp beige linen dot the perimeter of the room. Everywhere you look, the night sky beckons.
The Nashville City Club offers a contemporary backdrop for almost any style wedding reception. I like that the bride can keep the flowers to a minimum. What could compete with that view?
What About The Food At The Nashville City Club?
We thought the food at the wedding reception was great. Here are a few of things we sampled:
Fork-tender rosemary prime rib with hot rolls
A crudite station with various fruits, vegetables, and sauces
Spicy crab cakes
Chicken Wellington that everyone raved about
Artichoke dip with toasted chips
AND…
GET THIS…
a mashed potato martini bar!
WHAT? This unusual station was the talk of the reception. Guests could fill martini glasses with mashed potatoes and top them–not unlike an ice cream sundae–with cheese, bacon, sour cream and cherry tomatoes.
Talk about a conversation piece!
We certainly enjoyed this reception at Nashville's City Club. Here's hoping that our experience there will help another bride who's planning an elegant evening on top of the town!
Related Nashville Wedding Articles:
Eli Manning and Abby McGrew Wedding In Brentwood, Tennessee?
Weddings at Brentwood's Historic Cool Springs House
Best Place To Take Wedding Portraits In Nashville
How To Create Nashville Welcome Baskets For Your Out-Of-Town Guests
Brentwood Area Restaurants With Catering Services
Nashville's Most Elegant Florists
Arrange Your Own Inexpensive Flowers From Aldi and Sams Club
I'm a wife, mom of 4, and resident of Brentwood, Tennessee. I love finding fun new things for my family to see and do in Brentwood and the Nashville area!