This post may contain affiliate links. If you buy thru these links, we may earn a commission at no additional cost to you.
---
When I first saw my Bradford Pear trees in full bloom, I was in love.
Then the wind blew, and one of our 4 Bradford Pear trees fell into our neighbor's yard.
The 3 remaining trees were overgrown, but I really didn't want to pull them out and start over.
Once the beautiful bloom of my Bradford Pear trees faded this past April, I realized how badly they needed to be trimmed.
I called a landscaping company to do it, and they left me in shock…
Before And After Photos

To give you some idea of the difference before and after trimming, following is a before shot and an after shot.
Drumroll please…
BEFORE: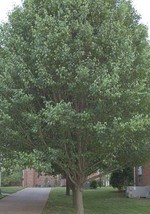 And AFTER:

I don't have a ton of experience in tree trimming (or hacking), but I really didn't expect this.
All kidding aside, the trees are already showing new growth, so I think they'll look good next year.
The initial shock wore off and I'm much happier with them now than before we got started.
If you have Bradford Pears, keep them trimmed and manageable. If you're considering Bradford Pears, consider something else. At the very least, don't park your car under them!
UPDATES:
We finally have it! Here's the contact information for the Brentwood tree trimming service which did such a lovely job on these Bradford Pear trees.
Fed up with Bradford Pear tree problems? Consider replacing them with native Tennessee trees like Redbuds or Dogwoods. Here's more info about finding and buying native plants in Tennessee.
I live in Brentwood, Tennessee and write about some of the fun things I like do around here… and some of the must-see places I would recommend for visitors to the area.