This post may contain affiliate links. If you buy thru these links, we may earn a commission at no additional cost to you.
---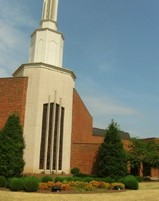 I love the great clothes I get from children's consignment sales, but I usually don't enjoy shopping them:
pushy moms
overpriced Walmart brands
picked over presale merchandise
I didn't have high hopes when I stopped by Brentwood's Otter Creek Church for the fall/winter sale.
Now I think Otter Creek's consignment sale is one of the best in Nashville.  Here's why….
I stopped by on Friday, a full day after opening.
The racks were packed with merchandise.
Toys and bedding were still organized.
Parking was no problem.
I didn't see anyone waiting in line.
Somebody pinch me!  Is this a Nashville consignment sale, or am I dreaming?
First I looked at toddler girls' clothing:
Many 2 and 3-piece outfits remained, neatly hung together and priced at an average of $8-$10 per outfit.
Brands ranged from Carter's to Chez Ami, with several Rothschild dress coats and cute jackets from Gymboree.
There were lots of smocked and portrait dresses priced in the $10 to $20 range.
I also spotted a rack of new-with-tags boutique clothing priced $20 and up.
(I'm sure there were more bargains lurking, had I more time to pick through each rack, or if I had made it to the sale's opening morning.)
Here are a few of the other products I noticed at the Otter Creek Church consign
ment sale in Brentwood:
Loads of designer bedding — mostly for cribs, lots of it custom-made with accessories like wall-hangings included.
Strollers galore — from jogging to double, all lined neatly against a wall.
Toys — grouped by category, easy to examine on tables, not bins.  An entire nook full of videos and DVDs.
What was most notable about Otter Creek's consignment sale was the lack of junk:  faded clothes, ratty toys, and worn out children's shoes.  Most of the items I saw were of better quality.
Even better: Otter Creek's sale benefits the church preschool.  It is held each spring and fall at the Franklin Road location.
Here's more information about the Otter Creek Sale. Whether you're consigning or shopping at one of Nashville's best kid sales, it really is one of the best around.
I'm a wife, mom of 4, and resident of Brentwood, Tennessee. I love finding fun new things for my family to see and do in Brentwood and the Nashville area!