This post may contain affiliate links. If you buy thru these links, we may earn a commission at no additional cost to you.
---
For the first time this season, I'm convinced that Brentwood's Melinda Doolittle will be the next American Idol. Look at that confident smile–Melinda's come a long way from appearing surprised!
Melinda Doolittle consistently outclasses rivals Jordin Sparks and Blake Lewis. Tonight, the judges let her know it…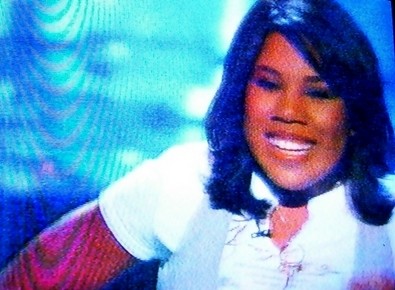 During the Top 3 episode, Melinda sings Whitney Houston's "I Believe In You And Me," Ike and Tina Turner's "Nutbush City Limits," and a reprisal of her favorite song, "I'm A Woman."
A video clip from Tennessee's State Capitol revealed Randy Jackson's song choice for Melinda. First Lady Andrea Conte looked on as Governor Bredesen read the fax.
Was it just me, or did Melinda accidentally refer to Randy Jackson as Randy Johnson?
ROUND ONE: JUDGES' CHOICE
Following Jordin Sparks' "Wish Upon A Star" and Blake Lewis' "Roxanne," Melinda sang Whitney Houston's "I Believe In You And Me." Her low, controlled voice showed no difficulty with this slow number.
What Melinda Wore:
Melinda Doolittle channeled a late '70s/early 80's look, even down to the feathered hair. Her Diane Von Furstenburg-ish print dress had a sleeveless blouson top and a strange ballooned skirt. Still, she managed to look both trendy and ladylike at the same time.
I jumped up and down when I heard the American Idol judges' praise:
Randy Jackson: "I wanted to throw a little difficulty at you."
"Very well done." "She blew it out the box."
Paula Abdul: "You were fantastic, amazing."
"One of your best performances of the season."
Simon Cowell: "Very difficult song to sing."
"Your best performance in the last weeks."
"Round one goes to Melinda!"
ROUND 2: PRODUCERS' CHOICE
Jordin Sparks gave a lively rendition of Donna Summer's "I Work Hard For The Money," while Blake crooned Maroon 5's "This Love." The producers chose Ike and Tina Turner's "Nutbush City Limits" for Melinda.
First, the segment opened with a shot of Melinda Doolittle's grandparents in the audience. Melinda looks just like her grandmother! There must be a strong maternal bond in the family, because Melinda then declared her idol is her mother, "that's my girl."
What Melinda Wore in Round II:
She didn't look grandmotherly, that's for sure. Melinda sported a wild combination of Pucci print dress over jeans, with red heels and green gemstone necklaces. Not one of her most flattering outfits, but at this point in the competition, looks don't really matter, do they?
"Nutbush City Limits" gave Melinda a chance to break out some spirited moves and powerful vocals. The judges obviously like this type of song for her:
Randy Jackson: "When you make a record, you should put some of this in it."
Paula Abdul: "We love you, we love you, we love you."
Simon Cowell: "Love that side of you."
"Again, another brilliant performance."
When Ryan Seacrest asked Simon who won Round 2, he demurred. "I'm gonna call this one a tie."
ROUND 3: CONTESTANTS' FAVORITE SONGS
Jordin Sparks chose the old-fashioned ballad, "I Who Have Nothing", while Blake Lewis beat-boxed the off-beat song "When I Get You Alone." Melinda chose to sing one of her earlier choices, "I'm A Woman."
First, American Idol finally showed a clip of Melinda's Nashville homecoming. Belmont University, Melinda's alma mater, named a street in her honor: Melinda Doolittle Way.
—>Here's a video of Melinda Doolittle's Nashville homecoming!
What Melinda Wore in Round 3:
I think this was my favorite outfit of the whole season. Melinda stepped out in a tailored dove-gray pantsuit, but not the staid realtor suits of the first couple of episodes. She wore a fitted vest over a white tee with faint silver lettering. She casually draped the jacket over one shoulder, then swung it around in what (for Melinda) was a provocative move.
Perhaps it was the three costumed background singers dancing with her, but I could fully imagine Melinda as American Idol's top star during this performance. The judges agreed:
Randy Jackson: "I'm seeing the range. That was hot–again."
Paula Abdul: "What I liked about that…you were stepping out into the spotlight. You're fantastic."
Simon Cowell: "Love the little strip tease!"
"I've gotta say this: we've know each other for eleven weeks "
"If I'm going to hand the final spot to the person who consistently delivers week after week, it's YOU."
What can you say after that comment? If America agrees, Melinda Doolittle will make the American Idol final 2!
—>Want an episode-by-episode guide to Melinda Doolittle's performances? Check here for the complete background and latest information on Brentwood's Melinda Doolittle!
I'm a wife, mom of 4, and resident of Brentwood, Tennessee. I love finding fun new things for my family to see and do in Brentwood and the Nashville area!