This post may contain affiliate links. If you buy thru these links, we may earn a commission at no additional cost to you.
---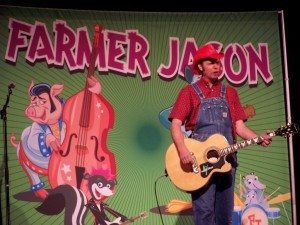 Have you ever seen a Punk Rock Skunk or a Guitar Pickin' Chicken?
Probably not. But if you attend a Farmer Jason concert, you will sing about both, along with many other animals.
Farmer Jason makes living on a farm look downright fun!
I attended a Farmer Jason concert on March 27 with my 2 year old, Lucy.  It was held at the Belcourt Theater in downtown Nashville, TN, just off of 21st Avenue.
Let me tell you, it is fun no matter how old you are!  The show is simple in set up, but big on charisma and charm.
A Farmer Jason show is something no child (or parent!) should miss.
Just Who Is Farmer Jason?
Farmer Jason is Jason Rigenberg, who has a long history in the music industry.
He and his band, Jason and the Scorchers, were one of the first bands to fuse punk and country music and did quite well — even earned an exhibit at the Country Music Hall of Fame.
Things changed for Jason when he made a cd for his two preschool daughters to listen to when he was on the road.  In 2003, his cd was picked by Family Fun magazine as one of the top 5 family albums of the year.  He now tours the country, performing as Farmer Jason.
What A Farmer Jason Show Is Like
The show was lively from start to finish and included his big hits such as, "Ode to a Toad" and "The Tracker Goes Chug Chug Chug".  Farmer Jason also included a few pointers on taking care of pets and yourself between songs.
My daughter especially enjoyed "Forest Rhymes", during which she called out the rhyming animals to Farmer Jason's lyrics.  Farmer Jason was even brave enough to take animal suggestions from the audience and thought of rhymes for them on the spot.  His daughter joined the stage to sing the last verse, which she also performs on the cd entitled "Rockin' In the Forest".
The highlight of the day for me was a dance contest in front of the stage during the song "The Doggie Dance".  Kids from 2 to 10 were there to "flap your ears, wag your tail, do the doggie dance".  On the stage, a judge, enlisted to help from the audience, decided which child did the very best doggie dance and gave away a free Farmer Jason DVD.
There was only one thing that I didn't like about the show — the wait to meet Farmer Jason.
I believe every parent waited in line with their child to meet him after the show.
We had to wait for around 30 minutes, but it was well worth it.
Farmer Jason took the time to speak with every child personally and take pictures as well.
He was very patient with me as I fumbled with my camera.
Lucy left that day talking nonstop about how much she loved Farmer Jason.  I'm sure that your little one will love him too.
Check Farmer Jason's tour dates for the next show in your area.  Enjoy the show!
I'm a stay-at-home mother of 3. Our family of 5 lives in Franklin, Tennessee. I love it here!