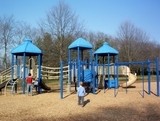 Granny White Park is one of the best — and most beloved — spots in Williamson County.
Find out why!
Here's a collection of all The Fun Times Guide articles about Granny White Park:
I'm a wife, mom, and resident of Brentwood, Tennessee. I love finding fun new things to see and do in the Brentwood area! Most recently, I've enjoyed blogging about my pregnancy with baby #3.
.