---
This page may contain affiliate links. In addition to sharing our personal experiences, we often write about products and services that we use ourselves or that we believe would be a helpful resource for you. To support our work, and remain a free website, we receive a commission from some of the links we share.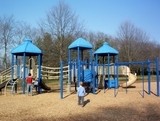 Granny White Park is one of the best — and most beloved — spots in Williamson County.
Find out why!
Here's a collection of all The Fun Times Guide articles about Granny White Park:
I'm a wife, mom of 4, and resident of Brentwood, Tennessee. I love finding fun new things for my family to see and do in Brentwood and the Nashville area!