This post may contain affiliate links. If you buy thru these links, we may earn a commission at no additional cost to you.
---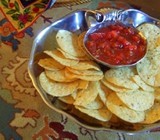 Planning your Superbowl party already?
Following are some great ideas for Superbowl party food, including links to Brentwood restaurants which cater everything from BBQ ribs to fruit footballs-to-go!
Superbowl Food
When it comes to Superbowl munchies, I'm a traditionalist.
You can't go wrong with hot chicken wings, chips and salsa, a vegetable tray and a big bowl of fresh roasted peanuts.
But that's not very creative, is it?
My husband thinks it would be fun to serve regional foods for each Superbowl team:
New England Patriots Superbowl party food: Boston Baked beans, brown bread, clam chowder

Green Bay Packers Superbowl party food: Sausage, cheese, cheese curds, Spretcher root beer

Dallas Cowboys Superbowl party food: Rotel cheese dip and tortilla chips, fajitas

Indianapolis Colts Superbowl party food: Midwestern casseroles, corn-on-a-stick, ribeye sandwiches

Tennessee Titans Superbowl party food: BBQ, potato salad, coleslaw, Moon Pies and Goo Goo Clusters
More Tips For Brentwood Area Superbowl Parties

If the Titans make the Superbowl, Corky's BBQ catering service will be booked solid! (Corky's BBQ is our favorite to-go place in Brentwood.)
We've also compiled a list of local restaurants which would be great for catering your Superbowl Party, along with Brentwood groceries which offer party platters to go.
Of course, you can always order pizza! Here are all the pizza delivery phone numbers for the Brentwood area.
If you'd like to get out of the house instead, try the Cross Corner Bar, the Athletic Club, or Jonathan's. They're all fun places to watch the Superbowl in the Brentwood area.
And if you're looking for a full meal with the Superbowl game, then check out our own Carnivore's Guide To BBQ and Steakhouses in Brentwood.
RELATED:
I'm a wife, mom of 4, and resident of Brentwood, Tennessee. I love finding fun new things for my family to see and do in Brentwood and the Nashville area!