This post may contain affiliate links. If you buy thru these links, we may earn a commission at no additional cost to you.
---
I knew when it was being built that the Brentwood Waffle House was going to be a little different from the other local Waffle House restaurants.
The building is typical "Brentwood" red brick and quite attractive. The customers are a lot less, um, colorful than other Waffle Houses that I frequented in the past.
Of course, I haven't visited this one at midnight either. Things may change depending on the time of day. But all in all, the Brentwood Waffle House really is a nice, family-friendly place to eat.
I have to admit it. I love the Waffle House.
And I've passed that love of breakfast any time of the day and yummy waffles on to my daughter. We end up there several times a month.
They've always been especially nice to my daughter, sometimes giving her a paper Waffle House hat to wear. And they always have coloring books and crayons available on the cart by the jukebox.
Recently, I noticed that they are now offering a kid's menu. On the kid's menu, they have a waffle for $1, two strips of bacon or a sausage patty for $1, and an egg breakfast for $2. That is a good deal!
Lately, I've been venturing out from my normal All Star Breakfast Special, trying to watch my weight. I have found that Waffle House also has dollar items on their adult menu that include a grilled chicken sandwich for $3 and a garden salad for $2.
While it's not my first place to consider when looking for grilled chicken and salad, they make some good grilled chicken! The garden salad is just lettuce, tomatoes, onions, and pieces of American cheese slices — not quite gourmet — but the ingredients are fresh and it's one of the few healthy options on the menu.
One other fairly new addition to the Brentwood Waffle House is that they now accept credit cards.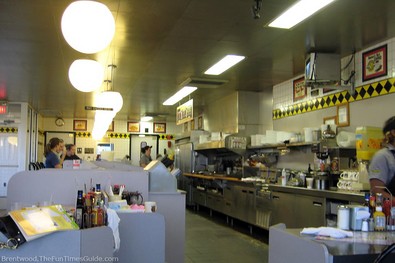 The Brentwood Waffle House is located at 790 Old Hickory Blvd., Brentwood, TN 37027. Phone: (615) 373-6883.