This post may contain affiliate links. If you buy thru these links, we may earn a commission at no additional cost to you.
---
The weather's getting warm, and the trout stocked in the Harpeth River won't last much longer.
Where's another good spot to fly fish near Brentwood?
Pack your gear, because we're taking a day trip to Normandy Dam and the Duck River!
Located just south of Murfreesboro off I-24, Normandy Lake was created by TVA in 1976.
The Duck River flows from a dam created to control flood water, not generate electricity.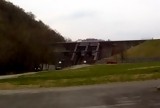 Normandy Lake features inexpensive campsites, host to tents and RVs alike. The surrounding farmland is as scenic and quiet as you can find in Tennessee.
Here's the TVA information page with maps and facts about Normandy Lake.
Fishing access to the Duck River is convenient. Park fifty feet away, then walk across the river's flat, rocky shoal. No steep banks–you can don your waders and walk right in the water.
The narrow river makes casting to the opposite bank a snap. The water level is usually just right for wading. Good spots for action are the pools across from the rocky bank and also downstream, about fifty yards past the bridge.
The Duck River is considered a cold water stream for the first couple of miles beneath the dam. You can fish for trout year round. TWRA stocks it with both brown and rainbow trout.
My husband has successfully fished this tailwater with various rod and line combinations–anything from a 8 foot/4 wt. rod to a 9 foot/6 wt. rod should be adequate.
Check with these local Nashville fly shops to see which flies the trout are biting:
Of course, you can do what my husband does and rely on the size 12 olive woolybugger!
Directions to Normandy Dam and the Duck River
From Nashville, take I-24 East to Exit 97 (Beech Grove). Take State Highway 64 West toward Wartrace.
From Wartrace, take Highway 269 south to the relative ghost town of Normandy. The road gets a little tricky here — take a left across the railroad tracks to continue on Highway 269. The dam and access points are a few miles on the left.
For the scenic route from Brentwood, take Nolensville Road south (US 41A) all the way to Shelbyville. In Shelbyville, pick up State Highway 64 East to Wartrace and follow directions as above.
Travel Tip: Nearby Bell Buckle, Tennessee has several B&Bs, artisan craft galleries, and antique shops.
Here are all of our articles on fly fishing rivers near Brentwood, along with information about local fly shops, 2 Nashville fly fishing clubs, and our pick for the best Tennessee trout water guidebook.
I'm a wife, mom of 4, and resident of Brentwood, Tennessee. I love finding fun new things for my family to see and do in Brentwood and the Nashville area!