This post may contain affiliate links. If you buy thru these links, we may earn a commission at no additional cost to you.
---
We're giving my brother-in-law's family a Honey Baked Ham for Christmas.
Since they live in Florida, I'm sending a gift certificate instead of shipping a ham.
Two things I need to find first:
a Honey Baked Ham coupon or coupon code
a cute way to package the gift card
I've Googled HoneyBaked Ham coupons until my fingers are blue.
In September, I lucked out with a 20% off coupon, just in time for a big party.
So far, I've yet to turn up anything except a $5 off coupon from the national newspaper insert.
Since Brentwood's HoneyBaked Ham store is so quiet on weekdays, I prefer to buy my gift certificate in person. That way, I can add it to the Christmas box and take the whole thing to the Brentwood Post Office on the other side of Franklin Road.
HoneyBaked Ham Store Hours
Note that the Brentwood HoneyBaked Ham Store has extended hours during the holidays.
Here's when the HoneyBaked Ham Store is open:
Regular Hours
Monday through Friday:  10am – 6pm
Saturday:  10am – 5pm
Holiday Hours
Dec. 19 – Dec. 23:  8am – 7:30pm
Dec. 24:  7am – 4:30pm
Closed Christmas Day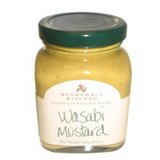 I think I'll buy a specialty mustard from Fresh Market or Harris-Teeter (approximate cost: $2) and tie the envelope around the neck of the bottle.
You may remember, this is the same family to whom we sent an Edible Arrangement (with coupon) earlier this year.
Since they're "people who have everything," we prefer to give them consumable items like fruit and ham, even if they're a little pricier than what we'd buy ourselves.
Need something special for a friend or client gift?
Here are some great Brentwood resources for holiday giving:
I'm a wife, mom of 4, and resident of Brentwood, Tennessee. I love finding fun new things for my family to see and do in Brentwood and the Nashville area!